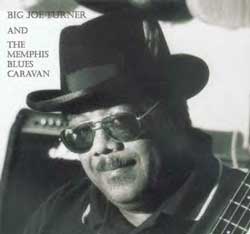 Joe Turner and his Memphis Blues Caravan
The former Isaac Hayes, Al Green, BB King bass man and band leader who spawned Eugene Bridges, Big Joe returns to the UK for a long overdue tour in support of his new live album.
Not to be confused with the late rock & roller Joe Turner, this gentle giant of the blues boasts a forty year career that has seen him play record, arrange and tour with all the greats from BB King and Albert King to Little Milton, Al Green, Isaac Hayes and many more.
Big Joe's career though is inextricably tied in with the very best years of BB King. As a core member and band leader of BB 's classic 50's line-ups, Big Joe would think nothing of recording three albums in a day with the same rhythm section, often backing the very best blues artists on his native Beale Street.
Joe also appeared in Isaac Hayes' groundbreaking "Wattstax" movie, and appeared on vinyl with Chuck Berry, when it occurred to him that he should step out in his own right.
Having established himself as both a master bass player, band leader and arranger, and talent scout Big Joe has spent the last decade honing his song writing skills. A move to Europe led him to signing to Mystic records with whom he cut three albums with lead vocalist Eugene Bridges.
The albums impressed not least because Joe wrote nearly all the material , including the show stopping "Blood On Your Hands"; "Bad Luck"; "Evil"; and the self explanatory "I Am The Blues". Moreover Joe Turner expanded his audience base by heading off to the continent and settling in France.
Since that time three years ago, Joe has unveiled a brand new talent in front man Carl Wethersby, a fine blues vocalist and song writer - his self penned "Rock Your Town" is on the new Big Joe Turner Live CD.
What you can expect from a Big Joe concert is the concept of a good time blues show with magnificent playing, great songs, and of course passionate blues. Big Joe Turner paid his dues for over 4 decades, and his Memphis Blues Caravan joyfully fulfills his potential. The Blues never sounded so good.
www.mysticrecords.co.uk/bigjoe.htm