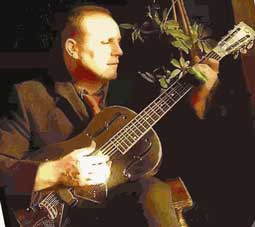 Peter Price


Although Peter Price has an already long-established reputation as a performer of the works of such blues luminaries as Blind Blake, Robert Johnson, Blind Boy Fuller, Son House and Big Bill Broonzy, he cannot be pigeonholed into a 'Blues' category - just hear his wide and varied repetoire including renditions of songs by Bahamian guitarist Joseph Spence of his evocative treatment of Latin American dance tunes, Indian Ragas and Eastern European music.
A performer who has received recognition and acclaim following appearances at various festivals and venues throughout the British Isles and Europe, Peter's long-awaited CD, 'Big Road Blues', has consolidated his reputation by demonstrating his complete mastery of Classic Country and Deltas Blues styles as well as Ragtime, Jazz and beyond - not to mention his own compositions!
Peter comes from a family for whom music, particuarly singing, has always been important. By his teens he was a competant Ukelele, Mandolin and Tin Whistle player. Soon afterwards he became drawn to the acoustic guitar, initially from listening to the acoustic playing that was featured in the works of rock bands like Led Zeppelin, Jethro Tull, Kinks, and the Rolling Stones.'It was always the acoustic side of the music scene which grabbed me' he says.
Later the British acoustic guitarist such as Bert Jansch, Jon Renbourne, and in particular Davey Graham and Steve Philips were all to exert influences upon him, inspiring Peter to explore the works of the American country/delta blues guitar masters.
In the early 1980s Peter was a side man with local Tex Mex/Rockpile band Reckless Hearts,playing acoustic guitar, mandolin, tenor sax, and accordian!
Before long however, Peter was immersing himself totally in the acoustic Blues world and had formed the The New Hokum Boys, a duo who toured extensively in the British Isles and Europe, playing Blues and Roots music.
In the mid 90s Peter embarked upon a solo career travelling throughout the UK and Ireland, appearing at many concert and festival venues from Shetland to the Channel Isles and from West coast of Ireland to the East coast of Britain.
In Febuary 2000 Peter made his first visit to the USA having been invited to play concerts in North Carolina and three performances at the South Carolina Blues Festival, he was so well received that he was requested to give a further three concerts.
Following a short Scandanavian tour in October 2001 Peter was invited back to perform at the prestigious Lillehammer Blues Festival and later at the Romerike music Festival.
Currently working on two new albums (one of which is live!) Peter will be seen at various festivals throughout 2003 in Britain and beyond, including a visit to the West coast of USA during August. (See tourdates)
An artist who takes pride in his craft, Peter Price constantly strives to share his passio for his musical influences which have inspired him.
An artist who takes pride in his craft, Peter Price constantly strives to share his enthusiasm and passion for the musical influences which have inspired him.
Put yourself on our email hotline
This web site was made possible in part through the sponsorship of
Griffiths Marshall Chartered Accountants
172 Southgate Street
Gloucester GL1 2EZ
Tel: 01452 520000