Accommodation
If you are looking for accommodation throughout the week of the festival please visit www.thecityofgloucester.co.uk or contact the Gloucester Tourist Information Centre on 01452 396572 or email: tourism@gloucester.gov.uk.
Travelling to Gloucester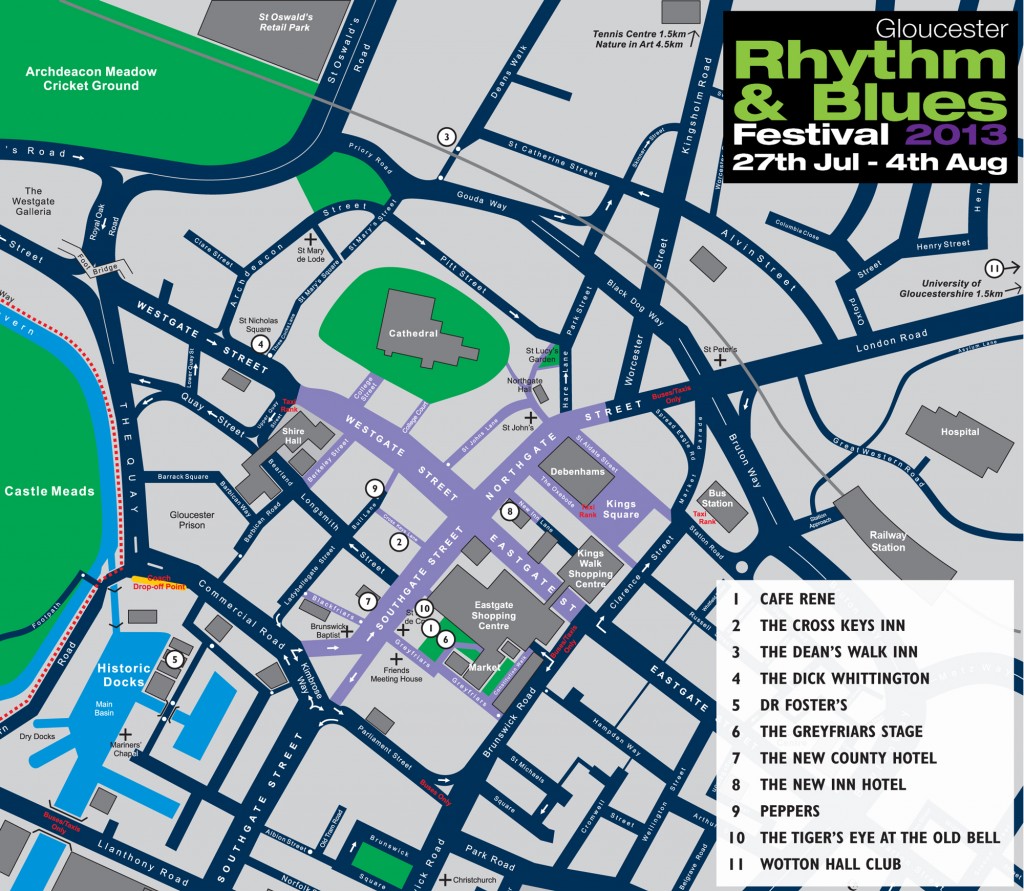 Click on the map to see a larger image.
Travel to Gloucester by Car
Gloucester is situated on the M5, Junction 11 from the north and Junction 12 from the south.
Gloucester has plenty of car parking around the city centre. For postcodes, opening hours and tarriffs please visit the Gloucester City Council website. Several Gloucester City Council car parks do not charge after 6pm.
View Gloucester City Council Car Parks in a larger map
Gloucester Travel by Train
Gloucester Railway Station is just a short walk from the City Centre and is served by frequent services to London, Birmingham and Wales.
Gloucester Travel by Air
Gloucester is just 1 hour from both Birmingham International Airport and Bristol Airport.  These two airports have a wide range of UK and international flights.  Locally you can fly with Manx2 airlines at Gloucestershire Airport with flights travelling to and from the isle of Man, Belfast and Jersey.
Buses
There is an extensive bus network throughout Gloucester, plus regular buses to the Cotswolds, Cheltenham, Forest of Dean and Oxford.
Taxis
Taxi ranks can be found outside the railway and bus stations, on Market Parade and Eastgate Street.